Weddings are a day to celebrate the Bride and Groom becoming one family
Each family comes with it's own unique background full of rich history and tradition. Traditions you may or may not already know about. If you are unfamiliar with the do's and don'ts of the Traditional South Asian Bridal look, don't worry, we have all of the information and skills you need to look perfect!
Here at Faye Smith Agency, we have multiple South Asian Bridal Specialists who can help you follow all of the beauty traditions at your wedding events. The hair, the makeup, the jewelry and the Dupatta, we will take care of it all! Whether you need help for the entire week of celebrations, or for your ceremony only, our stylists are here to help you look fabulous.
Each of our hair and makeup looks is customized to match your outfit, your style, and your personality. Whether you are looking for full-glam or something a little less traditional and more like you, we have the right artist to create your vision.
Faye Smith Agency hasbeautified British Columbia since 2008, and launched our talented Toronto team in 2020.

South Asian Bridal Hair & Makeup Finalist at the BC Wedding Awards 2019.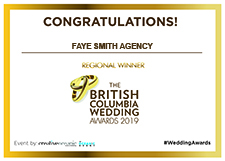 click here to view all of our awards
Rates
click here to get in touch