Kim Forrester, owner of
Kim Forrester Photography
and photographer of pregnant and new moms across Greater Vancouver, is a strong believer that professional hair & makeup plays a critical role in creating high quality work.
Since collaborating with Faye Smith Agency for hair and makeup, Kim has noticed 5 key improvements to the photography experience.
Newborn and maternity photography is about capturing precious moments, and it's also important for you to LOOK and FEEL your best!
Several months ago, Kim's team started working with Faye Smith Agency for hair & makeup for her in-home and on location photo sessions. Kim offers the unique benefit of a full service mobile newborn studio. Families with new babies can stay comfortable at home without compromising quality or professionalism. Her service includes everything from props, wraps, backdrops, wardrobe from her client closet, and yes, even hair & makeup! When Kim discovered Faye Smith has talented artists across the Lower Mainland, she knew they would be a perfect match. 
What Kim loves the most about working with Faye Smith is the incredible feedback she gets from her mom clients. They always feel at ease and taken care of. The hair and makeup is natural and simple, which compliments the beauty of the meaningful moments.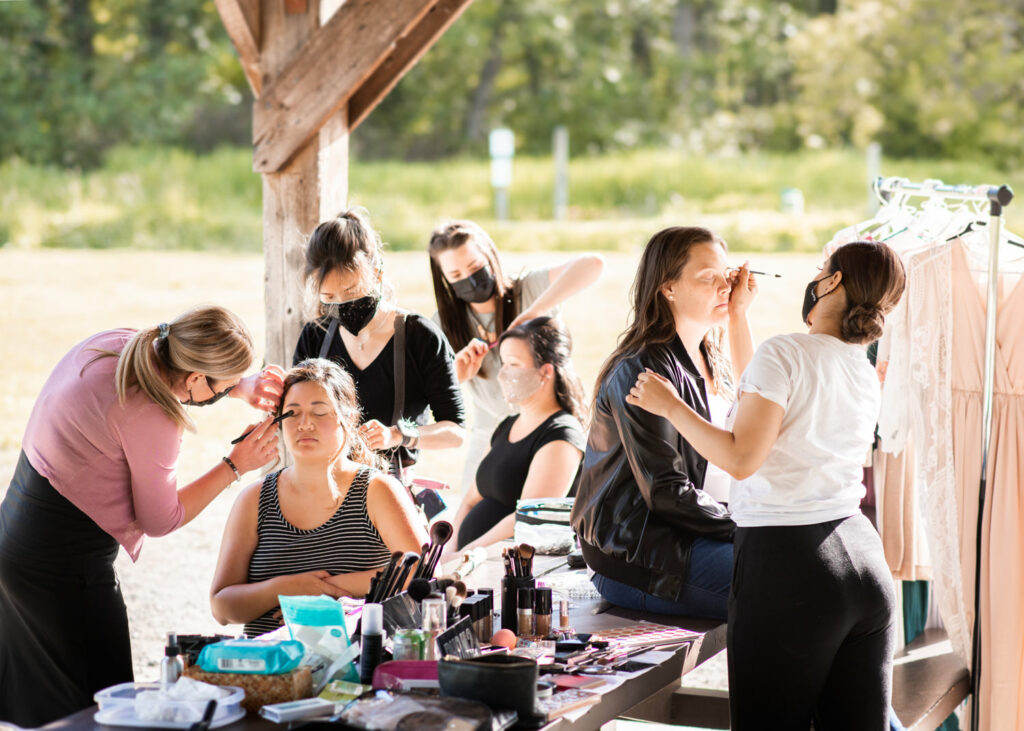 TOP 5 REASONS YOU NEED PROFESSIONAL HAIR & MAKEUP FOR YOUR PHOTO SHOOT:
#1 – TIME & ENERGY SAVER
If you're a tired mom-to-be or new mom, time and energy is something you probably are lacking. Kim's full service experience is all about helping her clients put their feet up and enjoy their photography experience, so professional hair and makeup helps achieve that on the day of the photoshoot. And guess what? When the mom feels relaxed, this comes through in Kim's natural, organic style of photography!
#2 – HIGH QUALITY IMAGES
Hair and makeup artists are trained specifically to ensure you look your best in front of the camera. Newborn sessions can take up 2-4 hours in a room that is kept warm to help settle your baby. So even if you can do your own hair & makeup, it's helpful to have high quality makeup and a professional application that is designed to last for the duration. Ultimately, the resulting images look more polished when hair and makeup is on point.

#3 – CONFIDENCE BOOSTER
Kim is a mom too. And she knows exactly how it feels to transition to a body that doesn't feel like yours. This is why she makes it her mission to help her mom clients feel as beautiful as they are. Sometimes all it takes is a little freshening up with hair and makeup to feel confident. When you feel great, you look great!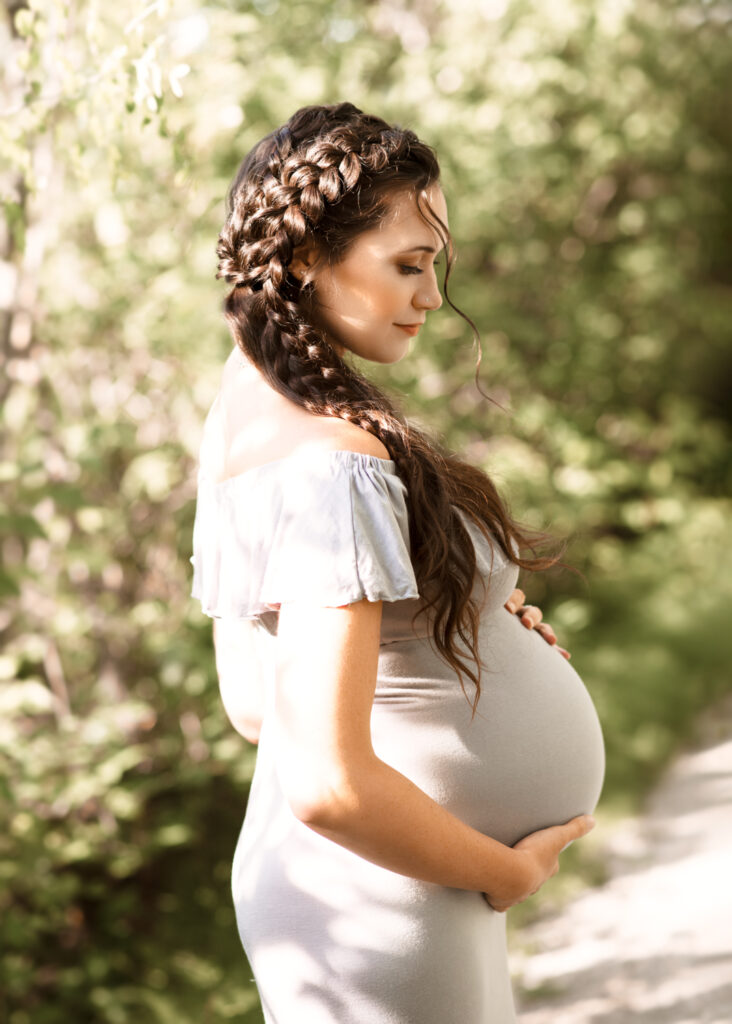 #4 – QUICKER TURNAROUND TIME
When skin and hair look flawless on camera, less time is required retouching blemishes, undereye circles and flyaway hairs in Photoshop. This means we can edit and turnaround your images on a quicker timeline! So you can enjoy your art sooner. Plus we want the images to capture and represent the REAL you! We believe hair and makeup artistry does a much better job of bringing out your natural beauty than Photoshop does.
#5 – YOU DESERVE TO PAMPER YOURSELF!
As women and moms, we often put ourselves at the bottom of our list and take care of ourselves last. But you DESERVE to pamper yourself!  So while you're at it and all dolled up, why not schedule a date night or treat yourself to a girl's night out after your session.  Just as you're investing in professional photography, investing in professional hair and makeup is an investment in yourself.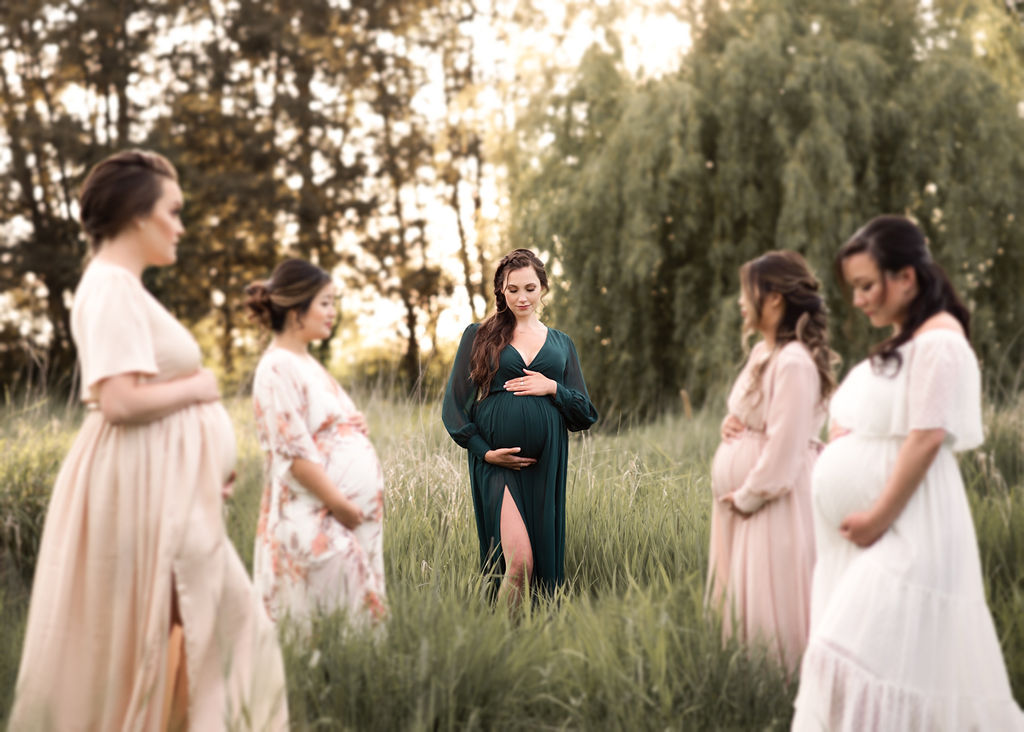 If that doesn't cover everything, the images will speak for themselves. Kim and Faye recently partnered up to capture the experiences of pregnant women through the pandemic, as featured in The Vancouver Sun, The Province, Westcoast Families, and BC Women's Health Foundation. Don't miss the Pregnancy Through a Pandemic page to see how beautiful these new moms looked, thanks to Faye Smith Agency!
Kim is running The Butterfly Series fundraiser sessions for pregnancy loss and infertility throughout the month of October, in support of The Butterfly Run. She is already starting to book for 2022, so don't wait to schedule your  maternity, family, or newborn session!
About Kim
Kim Forrester is a mom to a sweet little boy, dog mom to a gentle giant, and former hospital photographer of over 1000 babies. She is an international award winning photographer, and holds a diploma in Fashion Design and a Bachelor's Degree in Business Management.
Having experienced a challenging introduction to new motherhood, she is passionate about creating a relaxing experience for new parents. She gives them the peace of mind of hiring a professional photographer while they stay comfy in their PJs. She is infant/toddler CPR-B/AED First Aid Certified, and an advocate in the photography community for safe practices with babies. Kim enjoys mentoring other photographers, and collaborating with fellow creatives and women in business.
Preserving these special moments for the families means the world to Kim. It truly is her dream job, and she's honoured to capture each and every one of you!