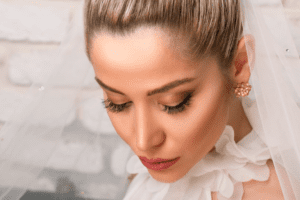 Source: pexels.com
The Importance of a Makeup Trial for Your Wedding Day
The day of your marriage is one of the most significant milestones in your life. It represents a new chapter in our life as you embark on a journey of shared experiences with your forever mate. With all eyes on the bride, it's no surprise that every bride-to-be wants to appear her absolute best and look stunning in wedding photos. From picking the perfect dress to selecting the right hairstyle, everything is planned out. Yet, one aspect often overlooked is a trial run of the bride's makeup. In this article, we'll explain why a makeup trial for wedding is absolutely vital for a beautiful and memorable wedding celebration.
1. Allows you to experiment with different aesthetic styles
A makeup trial is more than just a consultation with a makeup artist. It'sIt's an opportunity for you to experiment with different looks and find the one that best fits your personal style, face shape, and wedding dress. This can help you look confidently radiant on your memorable day. 
2. Enables you to fine-tune your wedding day look
Wedding makeup will almost always require some fine-tuning to ensure the bride-to-be will come out flawless during her momentous event. Schedule your trial makeup sessions three to four months prior to the big day to allow enough time for changes to be made. Once you have selected a style, the makeup artist can make the necessary adjustments and polish it until you are both happy with the results. Thus, a makeup trial helps you achieve the perfect bridal look you've always dreamed of. 
3. Helps you avoid allergic reactions
Trying new makeup products on your wedding day is a risky game to play. You may be allergic to certain ingredients, which can lead to unfortunate—and unappealing— results. The last thing you desire is a bad reaction before walking down the aisle. If you have a trial before your milestone event, you can conduct the necessary research and have ample time to do a patch test (if you simply must). Should that small area of skin react unfavorably, you'll have time to soothe and heal it without having to be treated all over your body. 
4. Keeps the weather from messing up your wedding look 
Heat, humidity, rain, and wind can impact your makeup, making it wear off, smear, or smudge. A trial can help you and your makeup artist anticipate potential problems and find long-lasting products that will hold up throughout the day, regardless of the weather. They can also give you pointers so you can touch up your makeup and stay picture-perfect from beginning to end.
5. Helps you establish rapport with your makeup artist
Your wedding day should remain as stress-free as possible, which means working with someone who understands your needs and style. A makeup trial helps you get to know your makeup artist, helping you better communicate your expectations, likes, and dislikes. At the same time, they can learn about your skin type, preferences, and wedding theme. So before your special day arrives, you can establish a comfortable working relationship with your makeup artist. This will help you achieve the look that you're going for. 
6. Gets you the perfect color match
Foundation and other product mismatches can make you look washed out, so it's essential to have a color consultation beforehand. Yet, getting the perfect color match for the big day can be challenging. You need to find the right foundation, concealer, powder, and other cosmetics to complement your skin tone, hair color, and wedding dress. With the help of a professional makeup artist, you can assess which colors work best for you during the trial. The result is a flawless and natural look that enhances your features while creating a cohesive bridal look.
7. Reduces stress
Your special day can be highly stressful because of your extensive wedding checklist. However, knowing exactly what to expect can help alleviate some of that anxiety. A makeup trial can do just that, making you confident about your bridal look. Thus, you'll feel more relaxed, having one less thing to worry about. This can boost your overall demeanor on your wedding day, ensuring an amazing wedding experience.
A final note
The importance of a makeup trial before your wedding day can't be overemphasized. It allows you to experiment with different looks, fine-tune your makeup style, avoid allergies or reactions, prepare for potential weather issues, and gain confidence about your appearance. In addition, it allows you to work closely with a makeup artist who can help you get the perfect color match, understand your preferences, and get to know you better. By incorporating a makeup trial into your wedding planning, you can score the confidence to say "yes" to "forever" with grace and radiance.
Are you looking to stand out at your wedding or any other special occasion? Then check out the Faye Smith Agency for the most exceptional talents in hair and makeup services in Vancouver, Toronto, and across Canada. Visit our blog today! 
Word count: 829
by Katie Pierce