Top tips for a stress-free wedding morning
Despite the many months of planning, it's natural to feel a little stressed about your wedding
day once it finally arrives. However, as much as possible, you'll want to remain present
throughout the course of the day, soaking up all the memories and special moments that
await. To do that, it's important to get yourself into the right frame of mind in the morning, to
set yourself up for this most unique of days. Here are some of our top tips for how to enjoy a
(relatively) stress-free morning on your wedding day.
Lean on your nearest and dearest
Traditionally, the bride will get ready with the bridal party while the groom prepares himself in
the company of his groomsmen. Surrounding yourself with your closest friends and family
members at this potentially stressful point in the day is a great way to keep your emotions in
check and help you fully relax before the ceremony.
For some added support, there are plenty of tasks you can assign out to your wedding party
in the morning to help take some of the stress off of your shoulders and build a more relaxed
atmosphere. For instance, you may ask someone (preferably with a good taste in music) to
create a playlist for the morning that will get everyone in the party mood.
One of the most important roles to designate is a timekeeper. It's all too easy for the morning
to run away with you when you're so focused on getting ready, and this can push the
schedule of the day back causing more stress further down the line. Ask a trusted member
of the wedding party to watch the clock closely and keep the preparations on track.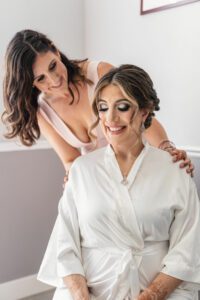 Don't leave anything to the last minute
When you wake up on your wedding day, you'll want to have a clear mind to be able to focus
on the only thing that matters – your partner. You don't want to be distracted worrying about
decorations, table layouts or any of the other million and one things you'll have had on your
mind for the last year or so. If something does come up that needs your attention, ask for
help from your wedding party rather than shouldering all the responsibility yourself.
To ensure everything is laid out just how you envisioned it, it's always helpful to arrive at
your venue with plenty of time. Depending on the venue's policies, you may have access to
it a day or two before your wedding day, giving you plenty of time to perform the finishing
touches. Make sure you clarify with your venue when you'll be given access so you can plan
the morning and the days building up to it in advance.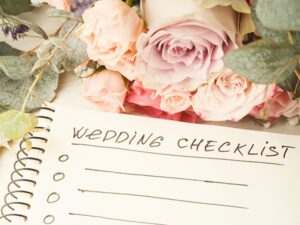 Make sure you eat and drink
When you're so concerned about your dress, hair, makeup and the other elements of your
getting ready routine, eating some breakfast may be the last thing on your mind. However,
chances are you won't be eating a proper meal again until the wedding breakfast after the
ceremony, so it's always good to fuel yourself up for the day with something to eat before
you get ready – even if you don't necessarily feel hungry.
Think about this in advance, and keep it simple; it's unlikely you'll want to be cooking a
complete full English breakfast before starting your preparations in earnest.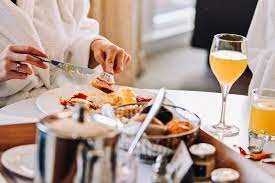 Enjoy the day
Taking the necessary steps to manage your stress levels on the morning of your wedding
will help you to relax into the day and fully appreciate this special occasion. Think about the
things that will help you feel more at ease and don't forget to lean on your wedding party and
coordinator for support.