As a Bride-to-be it is really important that you know how to Prepare for your Wedding Hair & Makeup Trial appointment to ensure you get the most out of it. My name is Faye. I have been a professional Bridal Makeup and Hair artist since 2008, and I was a Bride in 2019. I have experienced the hair and makeup trial process from both the Bride's perspective and the artist's perspective. In this blog post I have a LOT of valuable tips for you on how to prepare for your wedding hair and makeup trial.
If you have not already watched my YouTube video on, "What Brides Should Look for in a Wedding Day Makeup and Hair Artist", I have 7 very useful tips for you to watch and learn. Selecting the right stylist is always the first step to ensuring you are happy with your wedding hair and makeup.Please subscribe to my Youtube channel for more Bridal Beauty Tips, and to support the creation of my videos. Your subscription is extremely valuable to me.
Preparing for your wedding hair and makeup trial and what to expect from trial appointment.
Before the Trial
Make sure that you book the right stylist for you so you know they will be able to achieve the look you want. Learn more about selecting the right artist for you by watching this video!
Email your stylist a photograph of yourself with your hair down, all of your hair and makeup inspiration images, and any styling notes you may have gathered. This may include allergies and sensitivities, or general concerns such as small eyes and wanting them to look bigger, hooded eyelids and wanting them to look lifted, or hair that won't hold a curl. If there is something about your requested style that your artist is unfamiliar or less practised with, giving them a heads up ahead of time will enable them the opportunity to freshen up their techniques in advance and be more productive at your trial. I once had a client that is allergic to silicone and all ingredients ending in "cone" which meant I as her makeup artist I needed to do a ton of research and preparation before the trial. Even the most experienced of artists may need to prepare.
Wash and dry your hair the evening before your trial appointment unless your hair gets greasy daily which is that case wash and dry it the morning of your appointment. In most cases one day old hair is best for bridal styling.
Exfoliate and hydrate your skin regularly. The better the condition of your skin the better your foundation makeup will look. We recommend Stephanie from North Van Beauty for customized facials. We love the skincare line she uses which is Glymed Plus. Keeping well hydrated and eating a healthy diet will also improve the condition of your skin.
At the Trial
Communicate with your stylist. While not all personalities are extremely outgoing, loud and bubbly, good and clear communication is always important in ensuring you get what you want. Don't worry about hurting your artist's feelings. They want you to be happy and for you to get the finished result that you envision. Communicate what you like and what you don't like no matter how tiny or drastic the adjustment request is. And don't worry about hurting anyone's feelings! This is your wedding day and it is extremely important that you get what you want so ask for what you want and speak your mind. Be kind while you do it though as kindness is always appreciated. Don't leave the trial appointment unhappy as it is very stressful for both you and your artist if you later decide you are not confident in their abilities. It is better to communicate well at the trial appointment and leave feeling confident that you can later communicate further adjustments with trust in your artist's work.
It is ok to request to test out multiple makeup/hair looks in one trial session, however, you must understand that executing multiple styles in one sitting will mean that the finished look at your trial will not be as refined as it will be on your wedding day. If multiple looks is the route you decide to go down for your trial appointment you will then need to trust in your artist's abilities to properly execute your final style choice on your wedding day. Alternatively you can book and pay for an additional trial to see the final look properly executed before the wedding day. Each hair style and makeup design requires a different application routine in order to achieve the perfect end result. For example, Hollywood Waves require a completely different styling technique to a Boho Updo. If you request to see both styles in one trial session your stylist can execute the Hollywood Waves for you properly, and then quickly mock up a Boho Updo. If you select the Boho Updo as your wedding day hairstyle the look on your wedding day will be much more refined than it was at the trial as your artist will be able to execute the style from start to finish specifically for that Boho Updo hairstyle. With this information in mind, you must decide if you want to see one properly executed look, or multiple mock ups at your trial. You can always book and pay for more trials if you wish!
After the Trial
After your trial is completed keep an eye on how the makeup and/or hair wears throughout the day and make notes. If the curls fall flat make a note. If your skin gets greasy make a note.
Take lots of selfies so you can see how well the look photographs. Make sure to take your selfies in good, even lighting. We recommend standing facing a window. You will be amazed by how much makeup disappears in photographs.
Show friends and family and ask for opinions.
If you have your wedding dress available to try on it is always a bonus to get to see what your hair and makeup looks like with the dress on.
Send your artist a list, big or small, of the additional adjustments you would like made on your wedding day. Your stylist will be happy to make as many or as few adjustments are you desire. It is very normal to want further adjustments made to your wedding day hair and makeup design.
Report to your artist if something about the hair/makeup look did not wear well. There is always something they can do to improve the wearability of your makeup and hair style whether it be suggesting to switch to Airbrush Foundation for a longer lasting and more matte skin finish, or setting the hair first thing in the morning and releasing it just before you put your dress on so your curls last as long as possible.
Trust in your artist's abilities to make the adjustments you have requested so that your bridal hair and makeup is perfect on your wedding day. If you do feel more comfortable booking additional trials you are always welcome to book and pay for more trials for peace of mind, or to try out more looks. A Bride booking multiple trials is very common.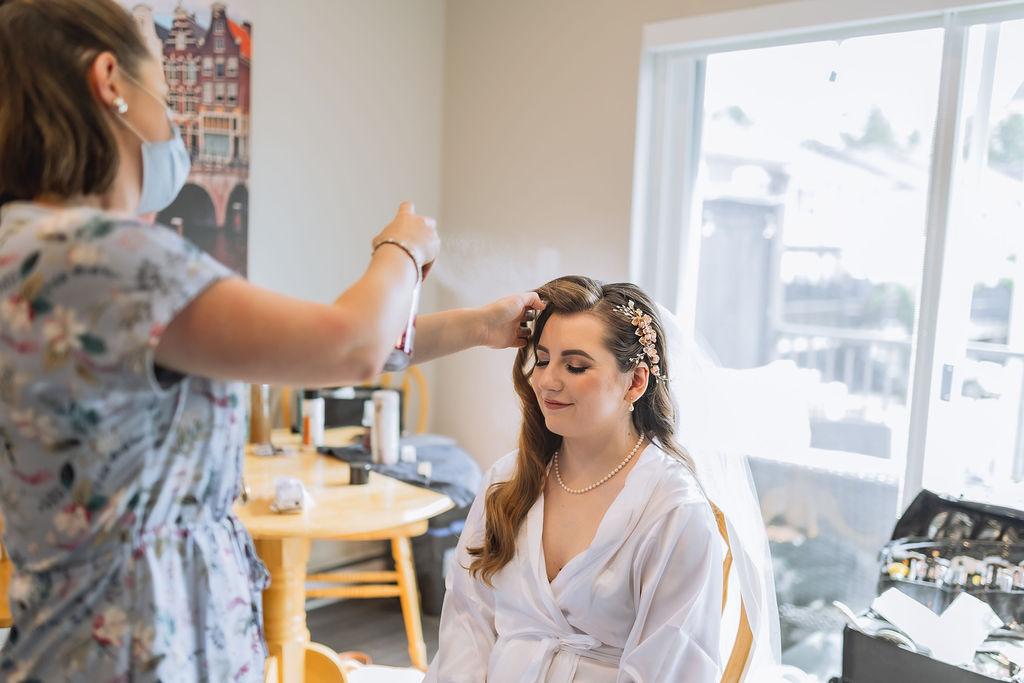 Bespoke Bridal Hair and Airbrush Makeup by Faye Smith Agency Master Stylist and Educator, Faye Smith.
Photography by So Wedding
Want to book a hair and makeup trial before committing to booking your wedding day services?
This is completely fine and not at all unheard of. If you prefer to book a makeup and hair trial before confirming your wedding day services your artist will reserve your wedding day for you while they wait for your trial to be completed, and for you to make a final decision. The artist can't reserve for your wedding day for you for very long so the trial will be need to be booked in a timely manner, and for your final decision to be made efficiently.
Request to book a trial
Ready to book your hair and makeup trial?
Did you know? 
Faye Smith Agency
is home to hair and makeup artists across Vancouver, Toronto, Vancouver Island, the Okanagan, and Whistler?
Cover photo: Hair & Makeup by Faye Smith, Photo by Christine Pienaar