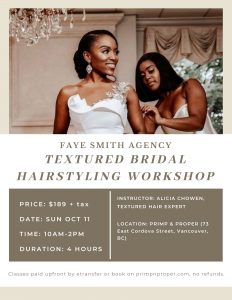 Our next professional hair workshop has been released and this one is going to be our most valuable lesson yet. Introducing Faye Smith Agency's first ever Textured Bridal Hairstyling Workshop.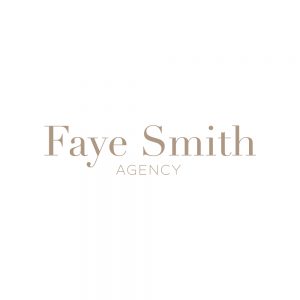 Date: Sunday, October 11th
Timeline: 10am-2pm
Price: $189 + tax

Location: Primp & Proper by Faye Smith Agency, 73 East Cordova Street, Vancouver BC V6A 1T6

About The Teacher:
Alicia Chowen is a textured hair expert. With a lifelong passion of hairstyling, Alicia works within Vancouver's booming film industry in the Hair Department and through her career has developed a passion for fellow stylists to learn how to work with textured hair. Alicia strongly believes that every hairstylist should have knowledge of all hair types so that every client feels comfortable in the chair and gets fabulous styling results. 
About The Class: 
The black community is growing in Vancouver and as a result, so is the demand for textured hair and weave styling, especially in the wedding industry. We have already received multiple inquiries from 2020 and 2021 bride-to-be's on the hunt for a stylist who is experienced and skilled with their skin tone and hair type. You should be one of those experts they call upon!
This workshop is all about educating students on Afro textured hair. This class will teach you natural hairstyling on afro textured hair, for the purpose of special events such as weddings. This course is essential for your skill development and career potential. 
Students will be learning:
​Curly hair types & textural differences
Styling Natural Hair
Blowdrying & Hot Tool techniques
Product Knowledge
General Class Schedule:
Diffuse curly hair to make beautiful curls. Product knowledge. Demo and hands on.
Hot tool technique demo only.
Wig/weave talk – how to style it.


Q&A
​
Kit List:
– Curly/Textured Haired Model (please let us know if you can't find an appropriate model and Alicia will help find someone for you).
– Blow Dryer
– Diffuser
– Flat Iron
– Sectioning Clips
– Large Round Brush
– Combs
Recommended to buy for the class and future practice:
Best flat iron for textured hair 
Best Hair Dryer for textured hair 
Best sectioning clips for thicker hair 
Small Print:
5% GST applies. 
Full prepayment is required to secure your spot in the class. 
Tickets are non-refundable.
Limited spots due to salon capacity restrictions during the COVID-19 pandemic.
Masks for both the model and student is mandatory.