If you know me at all, you will know I am English. If you know me better, you will know I love collecting antique tea cups and that in my opinion the best brand out there Royal Albert.
In the original Primp & Proper, (my Vancouver Beauty Salon), I hung my tea cup collection on the wall as a beautiful display for all eyes to see. I would get compliments daily. I loved to show off my tea cup collection and people loved looking at them! Sadly, my new and improved Gastown salon does not have the wall space for such a large display so my collection is safely packed away in a cardboard box until I find a new display wall for them. This will most certainly be on display in my future "dream home" one day. Hopefully sooner rather than later!
Whether you are looking for something modern or antique, Royal Albert carries the most beautiful tea sets and kitchen wear. A full kitchen wear set or a gift certificate from Royal Albert would make the perfect wedding gift for both the bride and groom, even if they already live together! They really do have a special design for every couple out there.
Royal Albert Now at Wedgwood.com – Fine Teaware With 100 Years of Excellence!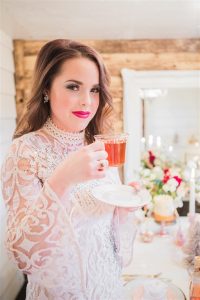 Owner & Lead Stylist at Faye Smith Agency
Owner of Primp & Proper