The wedding industry makes a comeback and Faye Smith lands on the cover of Vancouver Sun.
It's been a wild ride and we've all been waiting for a turn for the better. As BC restrictions ease, weddings are booking up.
Thank you to Vancouver Sun for the front cover feature and interview!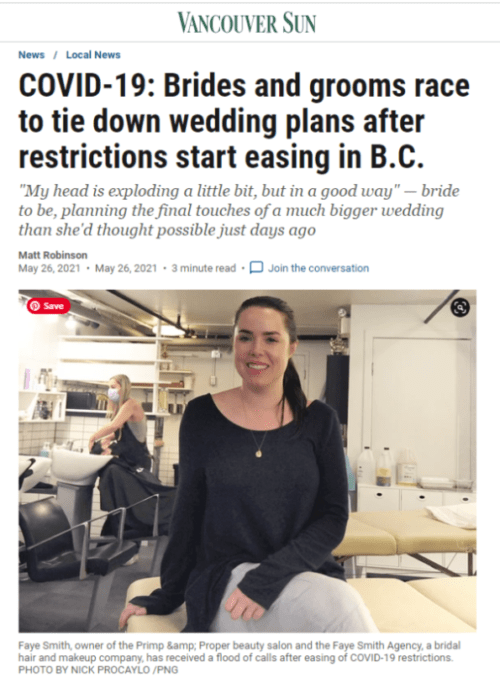 The wedding industry is back and bigger than ever!
"Then came B.C.'s announcement this week, which left Smith's business "instantly" flooded with calls."
– May 26.2021, as seen in the Vancouver Sun. Read the full article highlighting the wedding industry and Faye Smith's interview here.

Again, a big thank you to Vancouver Sun for reaching out to Faye Smith, owner of Faye Smith Agency and Primp & Proper salon, on the cover.
 After a year of cancelled, postponed, rescheduled, and downsized wedding events, Faye and the super talented hair & make-up artists at Faye Smith Agency were excited to hear about BC's anticipated reopening plan. Which means that wedding events can start booking up again. And that they did..
Within a day, the agency got flooded with booking inquiries for bridal hair and make-up.

The summer is looking busy for Faye Smith Agency and we couldn't be happier!

  Faye Smith Agency are definitely not the only ones celebrating the news. As we know it, the story of the couple, Dhesi and Awan, as featured in the Vancouver Sun article, is a common one. Many couples have been kept on their toes and have had to make last minute changes. But this time, it's for the better. So, a big shout out to the brides and grooms that have been riding the waves of uncertainty! Hopefully now you can plan to have a wedding that's a little bigger and brighter! It's been a challenging year but looks like there may be that light at the end of the tunnel we've all been waiting for.
How exciting! What now?
Some key dates for changes in indoor and outdoor gatherings are June 15 and July 1st, 2021 – make sure to review BC's Restart Plan here.
Make sure your bookings are in order for the day. Have questions or need to book yourself and your bridal party for hair & make-up? Faye Smith Agency is here to help, inquire here!
And, for any prep, accessories, or for anything to do with lashes, eyebrows, cosmetics, and gifts, visit Primp & Proper, Faye Smith Agency's sister company that will pamper you proper for your big day.
And from everyone at Faye Smith Agency, thank you to all our loyal clients, customers, past brides and future brides' support!
Cheers to YOU!