Working with Roger Federer was so laid back. He was in Vancouver for The Laver Cup and would be working with Mercedes Benz on a video and photo production. That is where we come in!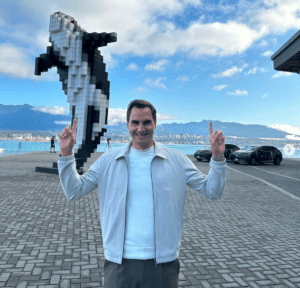 Of course when we got word that Mercedes Benz wants to ensure that Roger Federer is well looked after during this video and photo production, we assigned the Founder and Master Stylist of Faye Smith Agency, Faye Smith, as his personal makeup and hair artist. When Faye asked her husband, photographer Brandon Hart, if he knew who Roger Federer is Brandon claimed, "This will be the biggest celebrity you may ever work with." Faye doesn't usually get nervous about working with celebrities but her hubby (and other friend's hubbies) sure built up some hype!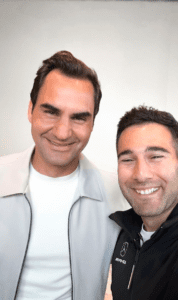 On the day of the photo and video production Faye arrived on the tale end of sunrise at Vancouver's iconic Convention centre. There was a collection of people gathered, all waiting patiently for Mr Federer's arrival. Three men in white gloves were ready to handle the huge Sterling Silver Laver Cup Trophy, while two others polished the sparkling new electric Mercedes Benz SUVs. Faye set up her director's chair, which turned out to be wobbly (eek!), and had her set bag at the ready.
Waiting for Mr Federer's arrival certainly built up some suspense, especially after all of the hype that "The Husbands" had built up, but Faye had been briefed and was prepared. She knew that Roger always arrives looking well put together. She was there as a formality to ensure he is well looked after, and to look out for on-camera shine. Faye's job was simple and easy. When Mr Federer arrived she exchanged a confident handshake with him and introduced herself before sitting him in her wobbly Director's chair and powdering his nose and forehead. Job done! Take a peak behind the since in the video below.
After this quick video and photo production everyone was whisked off in the new electric Mercedes Benz SUVs and on their way to JW Marriot Parq Vancouver. Here, Faye also got to work with race car driver, Daniel Morad.
A big thank you to Marvin Ronsdor  for choosing Faye Smith Agency as his production team's makeup and hair vendor.  Mr Federer is extremely friendly and laid back which made working with Roger Federer easy.
Faye Smith Agency